Home > 02 May 2013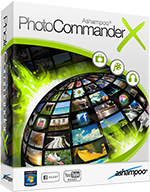 Ashampoo Photo Commander 10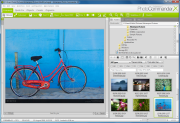 Get more from your digital images with this one-stop graphics tool
Ashampoo Photo Commander is a comprehensive suite of tools which provides everything you need to view, organise, edit and share your digital photos.
Launch the built-in file viewer, for instance, and a thumbnail browser helps you to explore your picture folders. You can filter your files by name, age, rating, metadata and more, then view a picture full screen, print it, set it as your Windows wallpaper, and more.
Ashampoo Photo Commander also includes a handy photo editor. This can help you crop, resize or rotate an image; add shapes or text captions; tweak colours, brightness and contrast, apply special effects, and more.
Once you've cleaned, retouched and generally optimised your photos, you may want to share them with others - and Photo Commander can help here, too. A "Create" module includes options to design a calendar or greetings card using your own images. An "HTML Album" option helps you publish photos on your own website. Or you can use the Slide Show tool to build a professional slideshow, and burn it to CD or DVD, ready for sharing with friends and family.
Perhaps most useful of all, though, is the Batch Process tool, which allows the program to carry out multiple actions on as many images as you like. If you've just taken 50 photos and want Ashampoo Photo Commander to automatically optimise their colours, for instance, there's no need to open each file individually. Just select your images, tell the program what you'd like it to do - optimise photos, resize or rotate them, add watermarks and more - and it'll automatically adjust every picture for you - a real time-saver.
Today's Price:
FREE
Saving
£34.99
(100%)
This promo has expired. Please check back soon for new offers.
How To Get Your Serial Code
Follow the instructions within Ashampoo Photo Commander 10 to get your serial code (check your junk/spam folder as an email will be sent by Ashampoo).